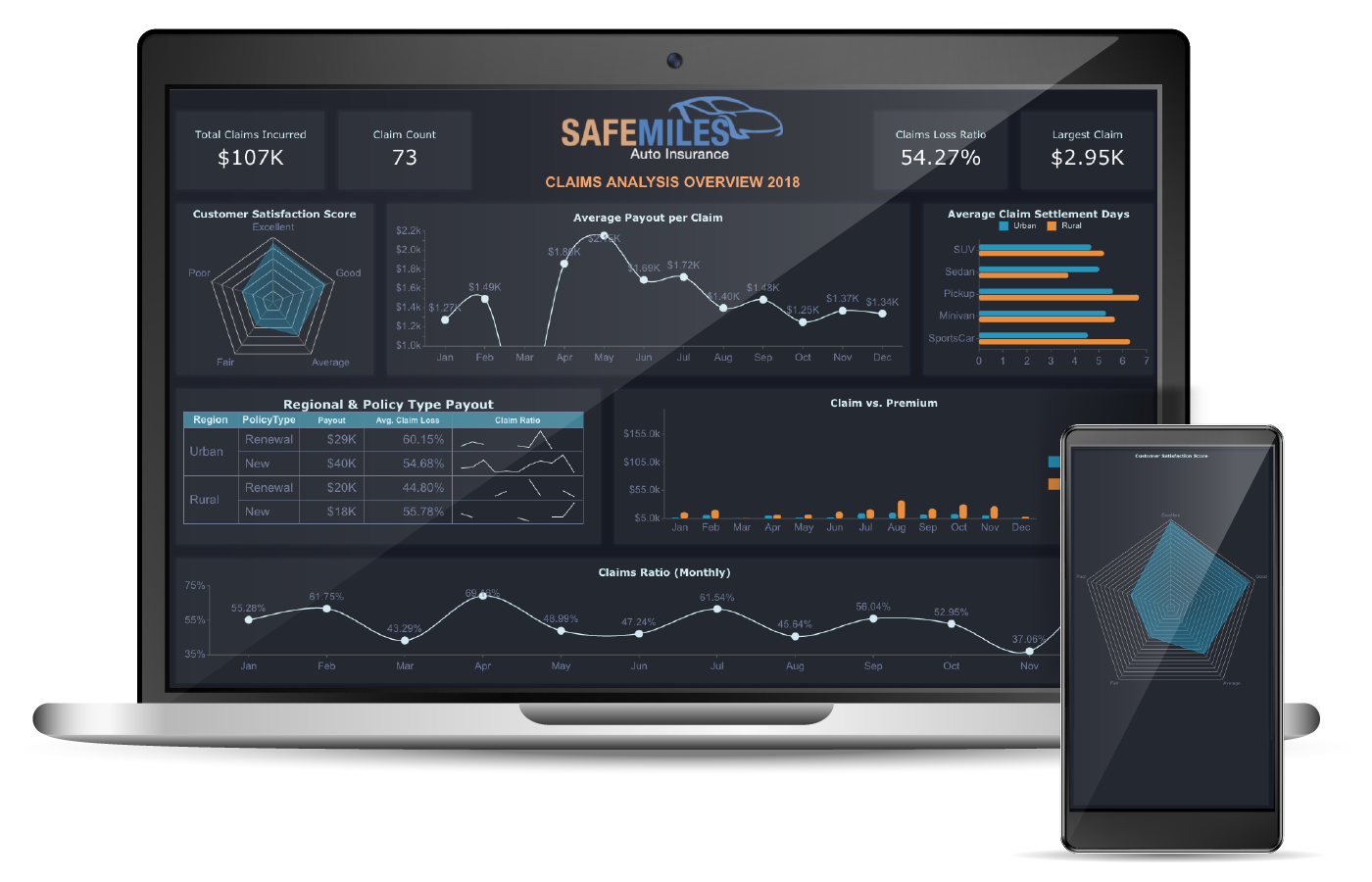 Embedded Business Intelligence for the Insurance Industry
Monitor insurance claims, analyze risk, and optimize reporting with embedded, self-service BI.
Transform Insurance Data into Actionable Insights
Develop a better, more efficient claim management process
Empower insurance agents to make better, data driven decisions. With a claims analysis dashboard, you can: 
Drive profitability by managing risk

Gain a better understanding of your profits vs liabilities

Monitor customer satisfaction & claim payouts
Benefits of BI for Insurance Agencies
BI and analytics provide essential insights to empower marketing, claims processing, underwriting, product development, and more.
Improve Customer Insights:
Develop customer profiling

Enhance distribution and service

Improve claims analysis processes 

Improve your call center insights with claim data sheet dashboards
Improve Risk Management & Underwriting:
Improve predictions for underwriting and risk management

Enhance claims handling, claimant correlation, and fraud detection
Create with Self-Service BI:
Operational insurance reports

Reports and financial projections

Executive overviews

Claim-by-state reports

Agent performance reports
Customer Success: Unleasing Efficiency
Anchor Risk & Claim Management, a full-service insurance claims administrator, was using an outdated, legacy reporting system.

Learn how Wyn helped them transform and modernize their reports while also slashing costs.
"Low TCO (was cost-effective for us), the support, ease of use, availability of the product, and how quickly we could get up and running with it. These were the primary consideration factors when we were shopping for a BI solution."
Business Intelligence and the Insurance Industry
7 Benefits of Embedded BI for the Insurance Industry
Discover 7 areas where embedded BI contributes to decision-making in the insurance industry.
9 Ways Insurance Companies Benefit from Business Intelligence
Explore the benefits that business intelligence tools can provide for the insurance industry.
Data Visualization in the Insurance Industry
Learn about the role of BI in the insurance industry.
See What our Customers are Saying:
Industry Awards and Recognitions:
See Wyn in Action
Test drive with your own data, or take a Wyn tour in our demo video.