Seamless Integration with Your Existing Technology
Load Balancing & Scalability
Deploy on scalable enterprise architectures with server clusters, web farms, and network load balancers.
Identity Service
Extensible security, authentication, and authorization are included for all server resources. Integrate with existing security systems or use the built-in providers.
Multi-Data Source Integration
Extensive support to pull in data from different formats. Pull data from relational databases, NoSQL data sources, web sources, and local Excel or CSV files.
Seamless Embedding
Once installed, Wyn is 100% web-based.
Seamlessly embed via Rest API and DIV. Supports OEM installation and embedding. Integrate with development platforms such as Java, PHP, and .NET through GraphQL API.
Embed inside customized .NET apps as well as JavaScript frameworks (Angular, React, Vue).
Wyn's lightweight server architecture offers flexible deployment and integration options within any web app.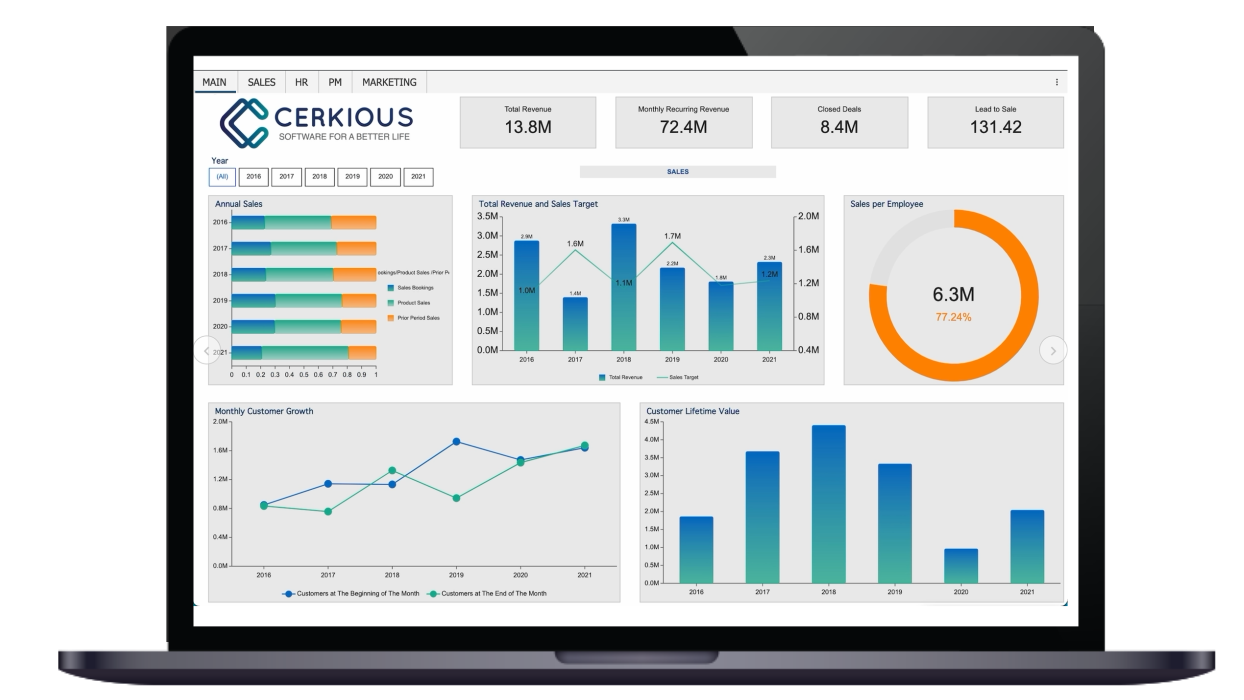 Data Visualization Modules
Interactive Dashboard Module
Analyze data and deliver actionable information with interactive dashboards, multi-dimensional dynamic analysis, and intelligent drilling.
Powerful BI Reporting Module
Ideal for self-service reporting, create customized reports with a drag-and-drop user interface. A user-friendly environment for your non-technical end-users. Advanced features for power users and IT admins.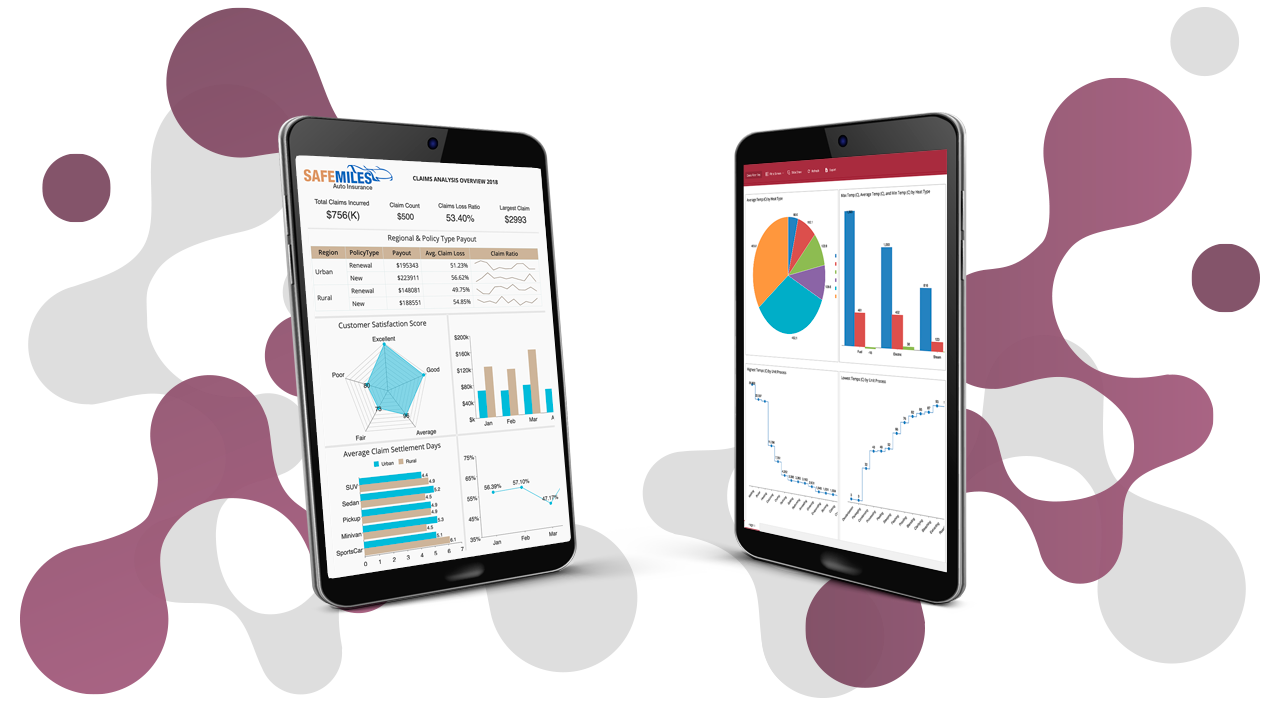 One Analytics Platform for all Skill Levels
Wyn's embedded BI platform works with your existing technology. Offer every end-user (from code-first to code-free) the ability to create custom ad hoc reports and interactive dashboards, regardless of your tech stack.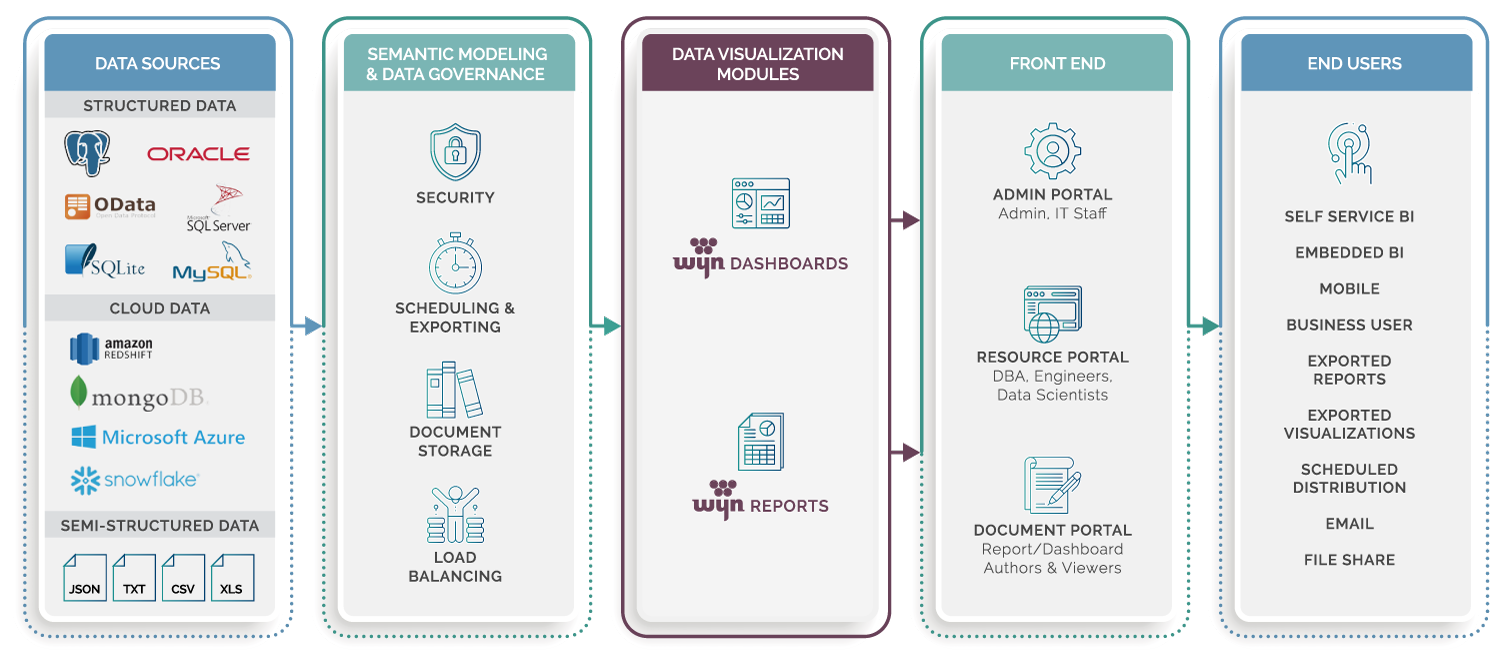 Front-End Portals
Three end-user portals provide different functionality for different user groups.
Documents Portal:
For business end-users, dashboard, and report authors.
Admin Portal:
For admins that configure the server, manage account and security settings.
Resource Portal:
For data administrators or IT teams. The Resource Portal displays all resources on the server.
Multi-source Real-time Data
Connect to multiple databases:
Oracle, SQL Server, MySQL, Postgres, SQLite, Excel, JSON, CSV, XML, MongoDB, ODBC, OData, Snowflake, Elastic Search, AWS RedShift, Google BigQuery, DB2, iSeries/AS400 Mainframes, TimeScaleDB, Clickhouse DB, Maria DB.).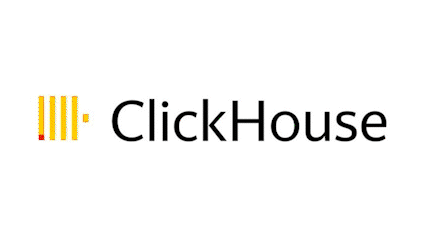 Single Sign-On (SSO) Support
Wyn offers built-in support for SSO providers like Okta, Azure, Google, OpenId, OAuth2, CAS, AWS Cognito, and more.
When someone signs-in with SSO, they go directly to their dashboards and reports in Wyn. The functionality works in both Embedded BI and Enterprise BI deployments of Wyn.
Data Access for Dashboards and Reports
Blend data from disparate sources using live data, cached data, structured data, semi-structured, cloud data, and file-based.
Push Datasets
Allow an external device/app to send data to Wyn for visualization. This can also be used for monitoring control systems/IoT devices.
Push Datasets stores data in a cache on the server. So historical data is also available and does not get lost.
Streaming Datasets
Streaming datasets adds the ability to have an external device/app send data to Wyn, which can stream the data to a dashboard.
This is a typical case for monitoring control systems, hardware, and IoT devices.
Cached Data
Allow gathering and merging data from multiple different data sources into one model for the dashboard.
This provides analytical expressions in the dashboard for file-based/cloud data sources that do not follow the typical entity-relationship structure. 
See What our Customers are Saying:
Industry Awards and Recognitions: