Insurance Dashboard
Claims Analysis
Drive profitability by managing risk to help develop a better, more efficient claim management process.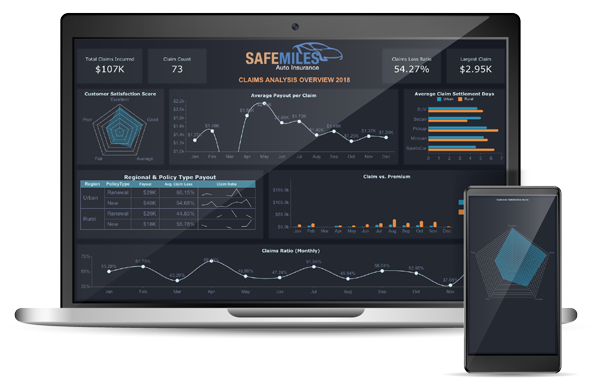 An insurance dashboard provides your agency with insights about profits vs. liabilities, it monitors customer satisfaction, and claim payouts.
Prevent subrogation, settle claims in shorter time frames, and become more organized with interactive insurance dashboards.
Claims Analysis Insurance Dashboard
Agents

Underwriters

Customer Service Representatives

Claims Representatives

Insurance Investigators

Insurance Claim Adjusters

Actuaries

Loss Control Agents

Insurance Brokers
Claim Adjusters

Insurance Appraisers

Sales Agents

Actuarial Analysts

Actuarial Associates

Actuarial Managers

Claims Adjusters

Claims Analysts

Claims Examiners

Claims Managers
Claims Specialists

Claims Clerks

Estimators

Examiners

Field Adjusters

Administrative Assistants

Bookkeepers

Policy Processing Clerks

Loss Control Consultants

Risk Consultants
Quota Rate

Contract Rate

Number of Referrals

Bind Rate

Percentage Pending

Sales Growth Rate

New Policies per Agent

Retention Rate

Policies In-Force per Agent

Average Cost Per Claim

Average Policy Size
Claim Frequency

Components of Claim Costs

Average Time to Settle a Claim

Client Satisfaction

Problem Resolution Rate

Underwriting Cycle Time

Claims Ratio

Expense Ratio

Average Policy Size

Loss Ratio

Average Revenue Per Client
Cost Per Quote

Cost Per Bind

Cost Per Bind by Vertical

Administrative Cost Per Policy

Revenue Per Policyholder

Average Time to Settle a Claim

Return on Surplus

Frequency

Severity

Components of Claim Costs

Expense Ratio

Renewal Rate