Social Media Marketing Dashboard
Drill-down on visualizations and analyze hashtag performance to understand:
Total sales from clicks per month

Top hashtag by click and impressions

Top conversions over a period of time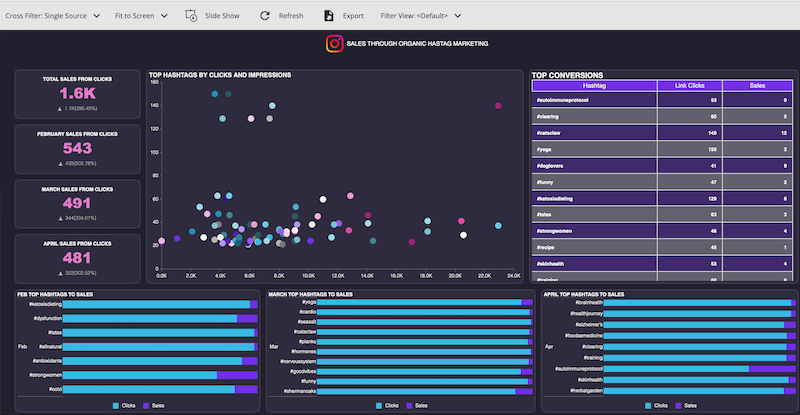 Enhance your company's social analytics to gain leads, measure churn rates, and expand engagement.
Gain the ability to analyze your social strategy and aggregate figures to track significant patterns. Explore new ways of incorporating embedded BI into your business. 
Understanding Hashtag Analytics
Digital Marketing Managers

Brand Managers

Social Media Managers

Online Content Developers

Business Analytics Specialists

Search Engine Optimization Specialists

Web Designers

Professional Bloggers

Blog Writers
SEO Content Writers

Content Marketing Specialists

Mobile Marketing Specialists

Email Marketers

Search Experts

SEM Analysts

Web Designers

Analytics Managers

CRM Managers

Online Brand Solutions Strategists
E-commerce Managers

Digital Agency Account Directors

Online Marketing Instructors

Marketing Coordinators

Marketing Copywriters

Virtual Reality Developers

User Experience Designers

Data Analysts

Bot Developers
Customer Lifetime Value (CLV)

Customer Acquisition Cost

Return on Investment (ROI)

Search Traffic

Keyword Rankings

Backlinks

Domain Authority

Page Authority

Likes

Comments

Shares

Landing Page Conversion Rates
Follower Growth Rate

Social Media Traffic

Social Media Conversions

Cost-per-Click (CPC)

Click-Through Rate (CTR)

Quality Score

Signup Rate

Open Rate

Click-Through Rate (CTR)

Unsubscribes

Engagement

Site Visits
Content Shares

Content Views

Returning Site Visitors

Social Shares

White Paper Download

Cost per Conversion

Sales Revenue

Leads

Customer Lifetime Value (LTV)

Digital Marketing ROI

Traffic-to-Lead Ratio

Bounce Rate